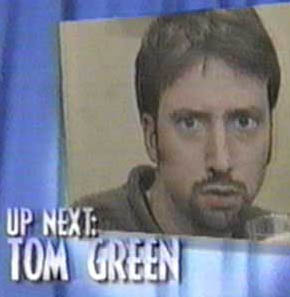 Back in 1999, a young comedian burst onto the scene named Tom Green. He had some kind of talk show on MTV and was known for doing all kinds of outrageous things. He eventually married Drew Barrymore, survived testicular cancer, and was in a few movies. The other day I saw he is back on TV with a more serious interview show on an obscure cable channel interviewing Dan Rather.
In 1999, I lived in Astoria, Queens, in a studio apartment so small that I could reach the refrigerator from my bed. I had a job with an Internet startup in Manhattan (still do) and had just begun dating the girl who was to become my wife (still is). A strange part of that summer was that at least once a week for a few months, someone would inevitably stop me on the street, bar, or subway platform and call me Tom Green. (In the bars they were often adamant that I was, in fact, the real guy).
Having people mistakenly "recognize" you to be a semi-celebrity is a little disconcerting, but particularly so when your "look-alike" is someone as off the wall as Green. My attempts to suggest that perhaps they meant I looked like Tom Cruise never really caught on. Since I wasn't one for outrageous stunts and raucous humor, the confusion centered solely on my appearance, which again, was a bit distressing, as Green is a bit of a goofy looking guy. At the time, I had a goatee, didn't always wear my glasses and my hair was a bit longer. Combined with being tall and thin, it seemed to draw the comparisons (I'm sure it was just the tall part that drove away the Cruise confusion). Just when I was starting to get used to it, Green's initial celebrity boom faded off a bit and people stopped making the connection, but it added some interesting conversations to my summer in New York.
I was reminded of the Tom Green sightings the past few weeks as I ran into kids from the local elementary school who'd read my book. After showing up in their classrooms for a couple of author visits in January, I was just top of mind enough to draw their attention when they ran into me around town. I picked my son up at an after school sports program the other day and more than a few of the boys spotted me as they filed out. Their eyes opened wide in recognition, a few pointed and craned their necks as they passed. A couple approached me and gushed about the book. It's great to see their excitement and hear them talk about their favorite parts. One kid never did say anything but just stared at me with his mouth open and eyes bugged his whole way out of the building as he tugged on his mom's sleeve and tried to tell her what he'd seen.
They say that everyone gets their 15 minutes of fame. I guess there are different levels that one could have. If mine ends up being making a bunch of grade school kids in my town excited by reading about Derek and Sam's adventures in the woods, that's not such a bad thing. It's certainly better than being confused with a guy who once swallowed a mouse.